Working at home:
Some people confuse jobs that can be done at home with jobs that are easy or that anyone can do. Training to become a transcriptionist is hard work and it cannot be done overnight
Getting your Medical Transcription Education
Your Medical Transcription Education is the foundation for your entire career. If you are serious about becoming a medical transcriptionist, it is wise to invest in proper education and training. Visit the professional schools below and find a program that fits with your schedule and budget.Remember, Medical Transcription is a specialty that cannot be learned overnight. A "medical transcription course" for sale on Ebay for $25 is probably not going to get you ready to work. If you are going to purchase something second-hand, make sure it is a complete curriculum from one of the reputable schools. Even older copies of curriculum are adequate, as medical terminology, word building, and anatomy do not typically change, and that is mostly what you will be studying as a beginner. Beyond that, get your hands on as much practice dictation as you can, and make sure every dictation you find has a key so you can check your work, which will help you refine your skills.
What should you look for in a training course?

Make sure you do your research on any potential career training program. Look for a school with an informative website that is mainly or greatly dedicated to Medical Transcription training. Complete, well-rounded training should take roughly 6 months to 2 years, depending on the school and your rate of study. The reputable courses do have a higher tuition, typically a few thousand dollars, and are worth every penny. However, if you can't afford this, you might look into your local vocational college to see if they have a medical transcription course to get you started.
Don't miss out on the latest MT news, deals, tools and resources!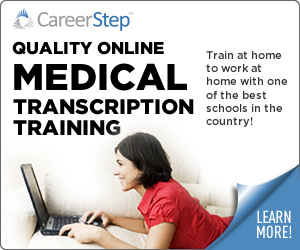 Fill out all the contact cards to have the schools send you information about them. Look into the different options available. Ask questions about their programs. What kind of support can you expect? Visit medical transcription forums and message boards and ask questions about the school you are considering, and make sure that there is a welcoming community of students and alumni.
Although the money you will pay for a good school is a wise investment, that does not mean that you automatically should go for the most expensive curriculum they offer, or that you should put your family in debt to enroll. Many of the big schools offer payment programs or financing, and if you still can't afford it, you can try and find used home-study courses to get started.

It is really not necessary to try and aim for your RMT or CMT certifications when you are first starting out. in fact, most MTs get by just fine without these credentials. Get through your training, get your foot in the door with your first job, and after a while if your path leads you to RMT or CMT, then go for it then.

So, What is the Best Medical Transcription School?

The AHDI is the most reliable authority for medical transcription workers in the industry today. Here is a complete list of approved programs by AHDI. However, there are very reputable programs that are not endorsed by AHDI. I have highlighted a few of my favorites below, based on the quality of applicants I have received from various schools over the years. Career Step is accredited by AHDI and the others are not.

Career Step Medical Transcription

Career Step is one of the top schools in Medical Transcription. They are recognized by some of the top transcription companies as a reliable source of employable graduates. They also offer Medical Coding training. As a bonus, they are offering a special discount to the wives of our Military solidiers. There are colleges in several states that offer the Career Step curriculum. Fill out their contact card to receive information about their training options and pricing programs.
At-home Professions MT Certificate Program

The At-Home Professions' Healthcare Documentation program will provide the knowledge, skills and understanding required for a multi-purpose position in the evolving medical documentation career field. Learn everything you need to know to start a new career in the healthcare field in as little as 7 months. Our distance learning certificate program gives you the right skills for the job.
Penn Foster Medical Transcription Program

Complete your online Medical Transcriptionist training online program in as little as nine months. Penn Foster Career School can help you train at home or on the go, and at a pace that's right for you. The Penn Foster Career School Medical Transcriptionist training program can help you take the first step towards a new career, and includes access to dictation and editing exercises.
Word of the Wise: Do not be tempted by Community Education courses that are only a few hours (or weeks) long, even if they offer a medical transcription"Certificate." These courses are typically informational in nature and are designed only to offer advice and facts about the career. You might hear some interesting information, but this is not enough to prepare you for the job. Any certificates given to you upon completing this course are useless when it comes time to actually work in this field. In order to be ready to work, you will need several months of consistent training and practice with a reputable school.
While you are getting your Medical Transcription Education, make sure you keep your skills sharp with a lot of practice dictation. Always check your answers against a key, and make notes of your mistakes. The more practice you get, the less mistakes you will make.
Articles

Career Step Medical Transcription Training
Over 85,000 students have chosen Career Step for their Medical Transcription training. The school's commitment to quality ensures that graduates have the skills they need to succeed in growing careers. Is Career Step Medical Transcription Training the right program for you?